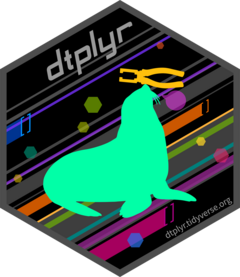 Create and modify columns
Source:
R/step-mutate.R
mutate.dtplyr_step.Rd
This is a method for the dplyr mutate() generic. It is translated to the j argument of [.data.table, using := to modify "in place". If .before or .after is provided, the new columns are relocated with a call to data.table::setcolorder().
Usage
# S3 method for dtplyr_step


mutate

(

.data

, 

...

, .before 

=

 

NULL

, .after 

=

 

NULL

)
Arguments
.data

A lazy_dt().

...

<data-masking> Name-value pairs. The name gives the name of the column in the output, and the value should evaluate to a vector.

.before, .after

<tidy-select> Optionally, control where new columns should appear (the default is to add to the right hand side). See relocate() for more details.
Examples
library

(

dplyr, warn.conflicts 

=

 

FALSE

)





dt

 

<-

 lazy_dt

(

data.frame

(

x 

=

 

1

:

5

, y 

=

 

5

:

1

)

)




dt

 %>%
  mutate

(

a 

=

 

(

x

 

+

 

y

)

 

/

 

2

, b 

=

 sqrt

(

x

^

2

 

+

 

y

^

2

)

)




#>

 

Source: 

local data table [5 x 4]


#>

 

Call:   

copy(`_DT23`)[, `:=`(a = (x + y)/2, b = sqrt(x^2 + y^2))]


#>

 


#>

       x     y     a     b


#>

   

<int>

 

<int>

 

<dbl>

 

<dbl>




#>

 

1

     1     5     3  5.10


#>

 

2

     2     4     3  4.47


#>

 

3

     3     3     3  4.24


#>

 

4

     4     2     3  4.47


#>

 

5

     5     1     3  5.10


#>

 


#>

 

# Use as.data.table()/as.data.frame()/as_tibble() to access results





# It uses a more sophisticated translation when newly created variables




# are used in the same expression




dt

 %>%
  mutate

(

x1 

=

 

x

 

+

 

1

, x2 

=

 

x1

 

+

 

1

)




#>

 

Source: 

local data table [5 x 4]


#>

 

Call:   

copy(`_DT23`)[, `:=`(c("x1", "x2"), {


#>

     x1 <- x + 1


#>

     x2 <- x1 + 1


#>

     .(x1, x2)


#>

 })]


#>

 


#>

       x     y    x1    x2


#>

   

<int>

 

<int>

 

<dbl>

 

<dbl>




#>

 

1

     1     5     2     3


#>

 

2

     2     4     3     4


#>

 

3

     3     3     4     5


#>

 

4

     4     2     5     6


#>

 

5

     5     1     6     7


#>

 


#>

 

# Use as.data.table()/as.data.frame()/as_tibble() to access results