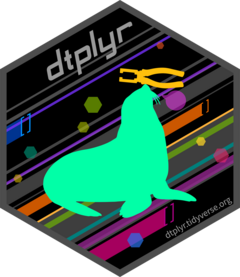 Replace NAs with specified values
Source:
R/replace_na.R
replace_na.dtplyr_step.Rd
Arguments
data

A lazy_dt().

replace

If data is a data frame, replace takes a list of values, with one value for each column that has NA values to be replaced.

If data is a vector, replace takes a single value. This single value replaces all of the NA values in the vector.
Examples
library

(

tidyr

)





# Replace NAs in a data frame




dt

 

<-

 lazy_dt

(

tibble

(

x 

=

 c

(

1

, 

2

, 

NA

)

, y 

=

 c

(

"a"

, 

NA

, 

"b"

)

)

)




dt

 %>% replace_na

(

list

(

x 

=

 

0

, y 

=

 

"unknown"

)

)




#>

 

Source: 

local data table [3 x 2]


#>

 

Call:   

copy(`_DT34`)[, `:=`(x = fcoalesce(x, 0), y = fcoalesce(y, "unknown"))]


#>

 


#>

       x y      


#>

   

<dbl>

 

<chr>

  


#>

 

1

     1 a      


#>

 

2

     2 unknown


#>

 

3

     0 b      


#>

 


#>

 

# Use as.data.table()/as.data.frame()/as_tibble() to access results





# Replace NAs using `dplyr::mutate()`




dt

 %>% 

dplyr

::

mutate

(

x 

=

 replace_na

(

x

, 

0

)

)




#>

 

Source: 

local data table [3 x 2]


#>

 

Call:   

copy(`_DT34`)[, `:=`(x = fcoalesce(x, 0))]


#>

 


#>

       x y    


#>

   

<dbl>

 

<chr>




#>

 

1

     1 a    


#>

 

2

     2 

NA

   


#>

 

3

     0 b    


#>

 


#>

 

# Use as.data.table()/as.data.frame()/as_tibble() to access results