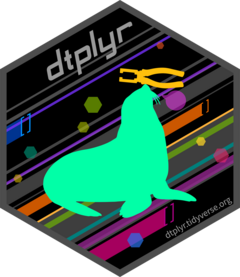 Summarise each group to one row
Source:
R/step-subset-summarise.R
summarise.dtplyr_step.Rd
This is a method for the dplyr summarise() generic. It is translated to the j argument of [.data.table.
Usage
# S3 method for dtplyr_step


summarise

(

.data

, 

...

, .groups 

=

 

NULL

)
Arguments
.data

A lazy_dt().

...

<data-masking> Name-value pairs of summary functions. The name will be the name of the variable in the result.

The value can be:

A vector of length 1, e.g. min(x), n(), or sum(is.na(y)).

A vector of length n, e.g. quantile().

A data frame, to add multiple columns from a single expression.

.groups

Grouping structure of the result.

"drop_last": dropping the last level of grouping. This was the only supported option before version 1.0.0.

"drop": All levels of grouping are dropped.

"keep": Same grouping structure as .data.

When .groups is not specified, it defaults to "drop_last".

In addition, a message informs you of that choice, unless the result is ungrouped, the option "dplyr.summarise.inform" is set to FALSE, or when summarise() is called from a function in a package.
Examples
library

(

dplyr, warn.conflicts 

=

 

FALSE

)





dt

 

<-

 lazy_dt

(

mtcars

)





dt

 %>%
  group_by

(

cyl

)

 %>%
  summarise

(

vs 

=

 mean

(

vs

)

)




#>

 

Source: 

local data table [3 x 2]


#>

 

Call:   

`_DT37`[, .(vs = mean(vs)), keyby = .(cyl)]


#>

 


#>

     cyl    vs


#>

   

<dbl>

 

<dbl>




#>

 

1

     4 0.909


#>

 

2

     6 0.571


#>

 

3

     8 0    


#>

 


#>

 

# Use as.data.table()/as.data.frame()/as_tibble() to access results





dt

 %>%
  group_by

(

cyl

)

 %>%
  summarise

(

across

(

disp

:

wt

, 

mean

)

)




#>

 

Source: 

local data table [3 x 5]


#>

 

Call:   

`_DT37`[, .(disp = mean(disp), hp = mean(hp), drat = mean(drat), 


#>

     wt = mean(wt)), keyby = .(cyl)]


#>

 


#>

     cyl  disp    hp  drat    wt


#>

   

<dbl>

 

<dbl>

 

<dbl>

 

<dbl>

 

<dbl>




#>

 

1

     4  105.  82.6  4.07  2.29


#>

 

2

     6  183. 122.   3.59  3.12


#>

 

3

     8  353. 209.   3.23  4.00


#>

 


#>

 

# Use as.data.table()/as.data.frame()/as_tibble() to access results